News
---
Reactive Time Proposals now being accepted from Spanish PIs
1500 GMT 16 May 2013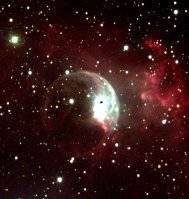 The Liverpool Telescope is now accepting Reactive Time Proposals from research groups based in Spain.
Spanish and UK-based PIs may now apply at any time of the year for a few hours of telescope time to: (i) conduct feasibility studies for future 'full' proposals, (ii) respond to newly-discovered targets-of-opportunity, or (iii) to propose observations in support of new projects that have just been allocated time on other telescopes.
Full details and access to the web-based proposal form are available here.
LT Session schedule of talks and posters at NAM 2013
1500 GMT 19 April 2013
The Liverpool Telescope will be holding a session at this year's U.K. National Astronomy Meeting which is to be held in St Andrews, Scotland. Two 75 minute sessions are currently scheduled for the afternoon of Monday, 1st July. The goal of these sessions is to discuss Time Domain astronomy, large-scale monitoring projects, and observations of variables and transients.
A large number of abstracts were received and Oral presentations have now been selected. The TENTATIVE schedule for the meeting is as follows:
| | | | |
| --- | --- | --- | --- |
| 1 | Hundertmark, Markus P. G.  | University of St Andrews  | Robotic discoveries of cool microlenses - highlights from the RoboNet-II microlensing program  |
| 2 | Bours, Madelon  | University of Warwick  | Eclipsing white dwarf binaries and their orbital period variations.  |
| 3 | Williams, Steven  | Liverpool John Moores University  | Identifying Nova Progenitors in M31  |
| 4 | Maguire, Kate  | University of Oxford  | Constraining the explosion physics and progenitors of Type Ia supernovae using Liverpool Telescope light curves  |
| 5 | Habergham, Stacey  | Liverpool John Moores University | PTF supernova follow-up and the story of type IIn  |
| | | | |
| --- | --- | --- | --- |
| 6 | Harrison, Richard  | Liverpool John Moores University  | Liverpool Telescope early time capabilities in probing prompt phase of GRBs  |
| 7 | Charles, Phil  | University of Southampton  | X-ray Transients from SSS to Halo Black-Hole Systems  |
| 8 | Lawrence, Andy  | University of Edinburgh  | Slow blue nuclear transients from PanSTARRS/LT : what are they?  |
| 9 | Altmann, Martin  | University of Heidelberg | GBOT - using the Liverpool Telescope for Gaia optical tracking  |
| 10 | Scholz, Aleks  | Dublin Institute for Advanced Studies  | Time-domain Observations of Young Stars: The era of real-time discovery  |

The following Posters will also be presented as part of the LT session:
| | | | |
| --- | --- | --- | --- |
| 1 | Lyman, Joe  | Liverpool John Moores University  | Environment-derived constraints on the progenitors of low-luminosity type I supernovae  |
| 2 | Shaw, Aarran  | University of Southampton  | A 420 day X-ray/optical modulation and extended X-ray dips in the short-period transient Swift J1753.5-0127  |
| 3 | Darnley, Matt  | Liverpool John Moores University  | Liverpool Telescope Photometric and Spectroscopic Observations of Galactic and Local Group Novae  |
| 4 | Hodgkin, Simon | University of Cambridge | Transient Astronomy with GAIA |
| 5 | Davis, Christopher  | Liverpool Telescope/LJMU  | LT - current status and future development  |

Finally, note that Chris Copperwheat will lead a discussion on the Liverpool Telescope 2 project in the session "Future Instruments and Facilities".
The official NAM website is here.
Comet team use the LT to monitor ISON ahead of Rosetta mission ground support project
1500 GMT 10 April 2013
A team of semi-professional astronomers based in the UK and Italy are using the combined power of the 2 metre Liverpool Telescope and the twin 2 metre Faulkes Telescopes as part of an extended comet research project. With support from Liverpool John Moores Astrophysics Research Institute, Nick Howes and Ernesto Guido of the Remanzacco Observatory have just started a new observing programme which focuses on the so-called "Comet of the Century", comet C/2012 S1 ISON.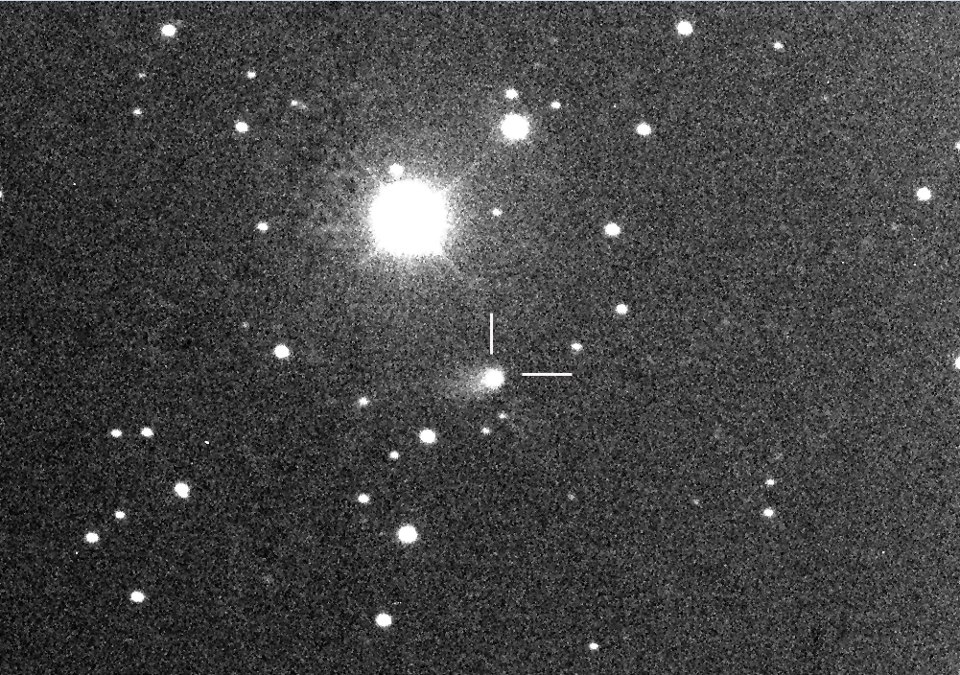 LT Image of Comet C/2012 S1 ISON
First detected by Russian astronomers Vitali Nevski and Artyom Novichonok late last year, Howes and Guido have been monitoring ISON, a sun-grazing comet, since day one. They recently noted a small dip in the apparent brightness of the comet, which they now aim to follow closely through regular observations with the LT. This monitoring campaign is made possible using the Robotic Observing system available at the LT and the Faulkes telescopes.
"The LT gives us such a detailed view of comets like ISON. When far out these objects usually display quite limited activity, but in this case we see a comet that warrants the high resolution observations which the 2m aperture gives us," says Howes, who also works as the pro-am programme manager for the Faulkes Telescopes and as a research associate with the Lowell Observatory in Flagstaff on their LARI program.
The team are particularly interested in tracking the evolution of ISON's coma and tail, looking specifically for changes in the distribution of dust and gas. The observations will contribute to NASA's Comet ISON Observing Campaign organised by the Naval Research Labs in the US.
While monitoring ISON, Howes and Guido also plan on studying Comet 67P, which ESA's Rosetta spacecraft aims to visit, orbit around, and actually land on in 2014. "These are exciting times for comet research. Through the generous support of the LT team and the PATAG program, we as `amateur' astronomers are able to conduct extensive research on these mysterious solar system bodies, and at the same time support the professional community," says Howes.
For further details and to monitor the progress of Howes and Guido, visit their blog.
13B Call for Proposals
1200 GMT 13 March 2013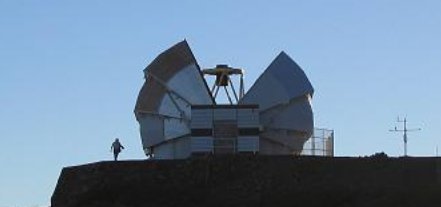 The Liverpool Telescope has now released its Call for Observing Proposals for semester 13B. The deadline for submission of proposals to the STFC Panel for the Allocation of Telescope Time (PATT) is Wednesday, 3rd April 2013, 4pm GMT. The same deadline applies to the submission of proposals to the internal JMU TAG by JMU staff. Please see the Phase 1 page for further details.
LT session at this year's National Astronomy Meeting
1200 GMT 07 March 2013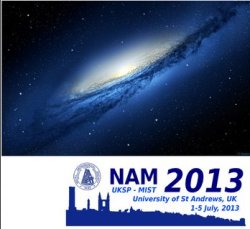 The Liverpool Telescope will be holding a session at this year's U.K. National Astronomy Meeting which is to be held in St Andrews, Scotland. Two 75 minute sessions are currently scheduled for the afternoon of Monday, 1st July. The goal of these sessions is to discuss recent results from the LT, developments in instrumentation at the telescope, and current plans for a successor to LT, the LT2. The meeting may also be used by those wishing to present talks or posters on Time Domain astronomy, large-scale monitoring projects, or observations of transients.
The deadline for submission of abstracts is 1st April. Please refer to the NAM website for further details, a full schedule of events over the five days of the meeting, and information on travel to and accommodation in St Andrews.
Near Earth Asteroid 2012 DA14 Tracked with Liverpool Telescope
1245 GMT 26 February 2013
The Liverpool Telescope locked on to asteroid 2012 DA14 during its "close shave" flyby on 15th February, demonstrating its ability to track "non-sidereally" on an object moving at least 5 arcsec/sec against the background stars. The same asteroid, smaller than a Boeing 747 airliner, was observed again a week later when it was more than 4,000,000 km from Earth, and as faint as a candle over 4,000 km away. Performed as part of research into asteroid tracking techniques, these tests were made using three of the LT's suite of detectors: RISE, SkyCamZ, and IO:O.
The recent close approach of asteroid 2012 DA14 was tracked by the Liverpool Telescope on 15th February. Below are image sequences of the asteroid when it was 100,000 km from the Earth. In these images the object was moving at a non-sidereal rate of 5.5 arcminutes per minute. The movie below left was constructed from fifty frames taken through the telescope's RISE camera, and is speeded up about ten times; the whole sequence takes about 100 seconds in real time.
| | |
| --- | --- |
| Sequence of RISE images showing tracking of asteroid 2012 DA14 while it was moving at 5.5 arcsec per second relative to background stars. (© 2013 Liverpool Telescope) | Sequence of SkycamZ images showing first sidereal then non-sidereal tracking of asteroid 2012 DA14, taken at a different rate, but at the same time as the RISE images at left. (© 2013 Liverpool Telescope) |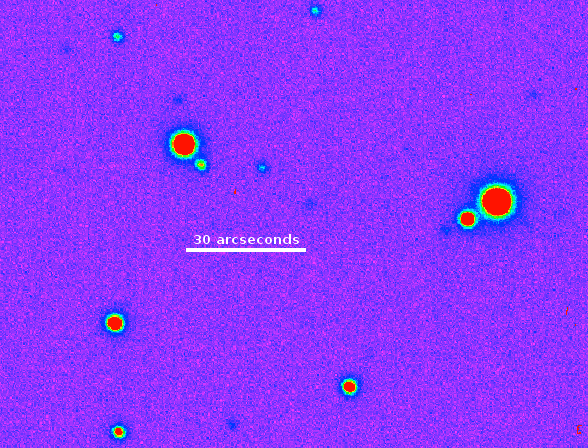 Asteroid 2012 DA14 a week after closest approach, in a sequence of three false-colour IO:O frames spanning two minutes. (© 2013 Liverpool Telescope)
The telescope's RISE camera was used rather than its primary IO:O imager because of the asteroid's brightness - the extreme sensitivity of IO:O was not needed for this object. Also, RISE has almost the same field of view of about 10 arcminutes.
At the same time the asteroid was also imaged using SkycamZ, the co-pointing 200mm (7.9 inch) wide-field telescope mounted on the top-end ring of the LT, which has a 1-degree field of view. This movie (above right) is made up from two initial sidereal (star-tracking) images first, which show the moving asteroid as a streak entering the frame at left. Then the next three frames are images taken when the telescope switched instantly to non-sidereal asteroid tracking mode, which suspended the asteroid's motion in the field of view and allowed the stars to trail by instead. All of these SkycamZ images are 10-second exposures made 1 minute apart.
At the time all of these sequences were made, the asteroid was moving at a topocentric (apparent to observer) angular speed of 5.5 arcseconds per second, and was 104,000 km away. However, a week later, on the morning of 23rd February, the LT observed the asteroid again using its IO:O imager (see right). By then 2012 DA14, which is slightly smaller than a Boeing 747 aeroplane, was 4 million km away (over ten times further away than the Moon), and its apparent angular speed had slowed right down to just one arcsecond per minute.
Performed as part of research into asteroid tracking techniques, these tests also demonstrate the LT's capability to track at non-sidereal rates of at least 5 arcseconds/sec (300 arcseconds/minute).
2012 a Productive Year for the Liverpool Telescope
1300 GMT 14 February 2013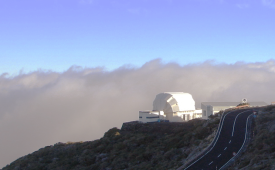 The LT looking north with the new support building providing workshop and storage space in the foreground, partially hidden at right (click for bigger).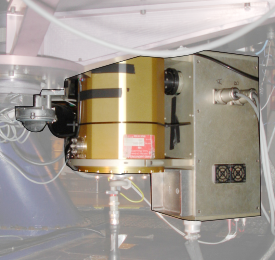 IO:O, the optical arm of the Infrared-Optical suite of instruments, mounted in place at the optical axis port of the telescope.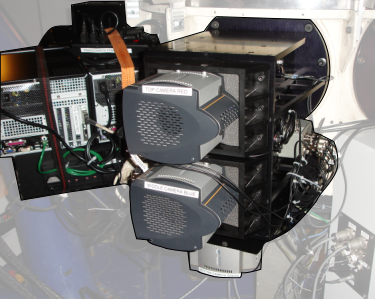 RINGO3 red, green and blue cameras plus support electronics mounted on telescope
In 2012 the Liverpool Telescope (LT) continued the trend of improved performance and reliability seen in recent years. Indeed, over semesters 12A and 12B the LT recorded a rate of just 2.4% lost to technical down time. This is a quite remarkable statistic when one considers that the LT is robotically controlled and its instrument suite is under constant development. Nobody is available at the telescope to flip a switch or reboot a computer, so faults occurring in the wee small hours typically result in the loss of the rest of the night.
In terms of new instrumentation, the development team at the Astrophysics Research Institute (ARI) in Birkenhead have been working hard to fully commission IO:O, the optical arm of an ambitious instrument that will eventually encompass optical and near-infrared imaging, as well as a fast-readout camera dubbed THOR. The expectation is that IO:O will replace the current work-horse imager, RATCam, for all optical imaging and photometry, in the latter half of 2013. At the same time, the LT's imaging polarimeter, RINGO2, has been upgraded with the addition of a third camera. RINGO2 has morphed into RINGO3, which now offers simultaneous polarisation measurements in three optical wavebands. RINGO3 is already being used by ARI staff to observe and monitor the polarization of light emitted by Gamma Ray Bursts.
In 2012 the LT tackled a broad range of science programmes, while at the same time supporting the National Schools Observatory by obtaining literally thousands of images for school kids across the country. For the scientists, targets as diverse as Type Ia supernova, asteroids and comets, galactic novae, exoplanets orbiting nearby stars, distant quasar candidates, Active Galactic Nuclei, and gamma-ray Blazars were observed. Many of these targets were observed repeatedly as part of monitoring campaigns, at short notice as Targets of Opportunity, or at specific times when events (such as planetary transits or occultations) were forecast to occur. All of this happens without real-time human intervention, and is further testament to the reliability of the LT's robotic control system.
The LT prepares for Gaia support duties
1700 UT 06 December 2012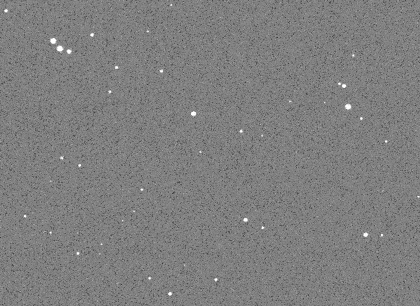 The 4-metre Planck spacecraft on 5th December 2012, when it was 1.5 million km from Earth (© 2012 LT project).
The Liverpool Telescope will be one of a number of observatories around the world to provide support for the upcoming Gaia space telescope. Gaia, a European Space Agency (ESA) mission, will be launched in 2013. Its goal is to generate the largest and most precise 3-dimensional chart of our Milky Way Galaxy. It will do this by measuring the positions of, distances to, and velocities of a billion stars to a precision never before achieved. However, to do the job properly astronomers must know the precise position of Gaia itself. And this is where the LT comes in.
Each night for a period of five years the LT will take a sequence of images of Gaia from its location at the Observatorio del Roque de los Muchachos in the Canary Islands. These images will be immediately transmitted to scientists at the Gaia Ground Based Optical Tracking centre in Heidelberg, Germany. There, the position of the satellite will be accurately measured so that the positions of the stars observed by Gaia can be inferred more precisely.
For two weeks in early December 2012 the LT is taking part in an operations rehearsal. Since Gaia has not yet been launched, to practice its role of satellite spotter, the LT observed another ESA mission instead - the Planck Space Telescope.
Planck was built to map the subtle variations of cosmic background radiation from the whole sky to a degree of accuracy never before achieved, and was the first European mission to study the birth of the universe. The two-ton four-metre spacecraft was launched in 2009 into a similar orbit to the one Gaia will hopefully enter. Incidentally, its flight away from Earth was also captured by the LT; see this archived news story.
The figure accompanying this article shows Planck as it passes across a background of stars. Planck is currently 1.5 million kilometres from earth, at a gravitationally stable location known as L2. L2 is a Lagrange point along an axis that links the Sun to the Earth. Gaia will also observe from L2, and since Planck and Gaia should appear roughly equally as bright in reflected sunlight, observing Planck now is a good way for LT to prepare for its Gaia support duties. L2 is a popular location for space telescopes (the James Web Space Telescope will also observe from L2 when it is launched at the end of this decade). However, because of its considerable distance from Earth, Planck only appears as a spot of light in the LT images. Gaia will likewise be unresolved in the LT observations, though these test images demonstrate that the data will certainly be good enough to pin-point the position of the satellite.
More details about GAIA can be found here: http://sci.esa.int/science-e/www/area/index.cfm?fareaid=26
For older news items, see the News Archive