News
---
Liverpool Telescope Calls for Proposals
for Semester 2018A
04 September 2017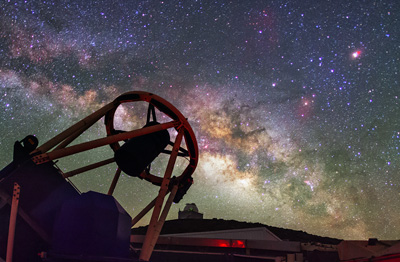 LT © 2016 Daniel López/IAC
The LT Time Allocation Committee has issued the Calls for Proposals for Semester 2018A (1st Jan 2018 → 31st Aug 2018 inclusive). See below and the Call for Proposals page for details.
PATT applications
PATT accepts proposals from Principal Investigators (PIs) based in the UK.
Non-UK PIs who are not eligible for CAT, OPTICON or CCI time may also apply through PATT.
After taking off 20 hours set aside for Reactive Time and 19 hours allocated in previous semesters, there are 261 hours available to be allocated for PATT in semester 2018A.
The deadline for submission of PATT proposals is 17:00 GMT on Tuesday, 3rd October 2017.
Full details of the Call for Proposals are available for download as a PDF file from here [CallForProposals-PATT-18A.pdf]. The file gives more information about the proposal process, reactive time applications, new and existing instruments, and the telescope's performance and rapid-response capabilities.
JMU applications
The internal JMU TAG accepts proposals from Principal Investigators (PIs) from the Liverpool John Moores University Astrophysics Research Institute.
After taking off 9 hours set aside for Reactive Time and 6 hours allocated in previous semesters, there are 285 hours available to be allocated for JMU in semester 2018A.
The deadline for submission of JMU proposals is 17:00 GMT on Tuesday, 3rd October 2017.
Full details of the Call for Proposals are available for download as a PDF file from here [CallForProposals-JMU-18A.pdf]. The file gives more information about the proposal process, reactive time applications, new and existing instruments, and the telescope's performance and rapid-response capabilities.
CAT applications
The eligibility requirements and applications procedure for the CAT Time Allocation Committee can be found on the CAT website. In general, CAT accepts applications where the principal investigator (PI) is affiliated to a Spanish Institution.
The deadline for submission of CAT proposals is 17:00 GMT on Tuesday, 3rd October 2017.
Reactive and Priority-Z time applications
The TACs generally reserve a small proportion of their time allocation to provide rapid response to unforeseen targets of opportunity. This Reactive Time can be applied for at any time throughout the year as described here.
We also offer users the ability to apply for PriorityZ Time at any time throughout the year. We define PriorityZ time as time when there is no A, B or C-ranked science group available for the scheduling software to pick, and so the telescope would otherwise sit idle. This can occur during periods of poor seeing during full moon, or during times of instrument failure. We estimate approximately 10-15 hours of such time are available per month, although this can of course vary significantly. PriorityZ time is well-suited to long-term proposals of bright targets with no significant time constraints. We would typically expect to approve a PriorityZ proposal for a period of two years. PriorityZ time is not tied to any TAC and so we welcome applications from any research astronomer.
OPTICON Call for Proposals for Semester 2018A
15 Aug 2017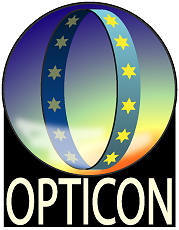 The Optical Infrared Co-ordination Network for Astronomy (OPTICON) has issued its call for proposals for semester 2018A, for telescopes supported by its Trans-National Access (TNA) programme. The Liverpool Telescope (LT) is part of this network, and we have made available fifty hours of telescope time to be used in our semester 2018A, which runs from 1st January 2018 to 31st August 2018 inclusive.
The deadline for proposal submissions is 23:59 UT on 31st August 2017.
Technical support for the submission software is not provided out-of-hours and late applications will not be accepted, so please complete your application in plenty of time. Full details of this 2018A Call for Proposals, including instructions on registration and submission of your proposal, can be found on the OPTICON Trans-National Access programme page.
The TNA programme page specifies certain EU and OPTICON rules that proposals must meet for formal eligibility concerning team membership. Please pay attention to those rules or your proposal will be rejected without any scientific evaluation. The PI and at least half of the Co-Is must be working at institutions from EU member states or EU associated countries but which are outside the United Kingdom.
Full details of the LT's current instrumentation and capabilities can be found elsewhere on this site, but to get started, your attention is drawn particularly to our Telescope Specification, Instruments, and Phase 1 sections.
Useful links:
Spectacular pictures added to LT Picture Gallery
26 July 2017

A small sample of the 70+ LT images submitted to the Gallery. © 2017 Göran Nilsson and Wim van Berlo.
An album of over seventy spectacular pictures made from LT data has just been added to the LT Picture Gallery. Follow this link to the new album on Flickr.
The pictures were made by taking archived greyscale IO:O data that had been observed through effectively red, green and blue filters, and combining them in various ways to produce colour images. Most of the original data had been requested over the years by UK schools via the National Schools' Observatory
This skilful post-processing was performed by Swedish amateur astrophotographers Göran Nilsson and Wim van Berlo.
Göran is a professor in animal physiology at the University of Oslo, and Wim is a physics and mathematics teacher in Stockholm. Both have been interested in astronomy and astrophotography for some time; Göran even built his own observatory in the Swedish countryside in 2014.
Living so far north has its drawbacks however when it comes to astrophotography in the summer. "During a four month period, from May through August, the sun hardly sets below the horizon, and it doesn't get dark," says Wim. Göran, situated even further north, has the same experience: "The long light summer nights make astrophotography impossible for several months," he says.
To have something astronomy-related to do during this time, the two decided to use their growing astrophotography skills to process exposures that were freely available from the Liverpool Telescope's Data Archive. Together they sifted through all available data for each of the objects they chose, stacking and combining the frames. Göran used the program Nebulosity for stacking, following up with Adobe Photoshop for final contrast enhancements that reveal hitherto unseen fine detail. Wim performed the same tasks entirely with the single package PixInsight.
The result is over seventy stunning full-colour pictures of famous and some not-so-famous astronomical objects. We are certainly delighted with the pictures, and thank Göran and Wim for allowing us to host their work on our website.
Further imagery by Göran can be found on the astrophotography image hosting service Astrobin, while both Göran and Wim can be found at the Stargazers Lounge forum.
Useful links:
New filter for RISE
11 July 2017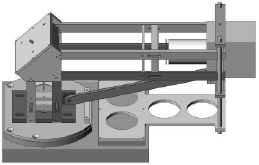 RISE mechanical model
[UPDATE (26 July): The filter has now been changed. See the RISE instrument page for further details.]
The RISE fast-readout camera is having its "V+R" filter replaced with a 720 nm long-pass filter on 26th July 2017. This is being done to enhance the capabilities of the camera with regard to measurement of exoplanet transits around late-type, red dwarf stars.
More details of the filter switch can be found in the filter section of the RISE instrument page here.
Quicker Daily Data Flow and Weekend Data Releases
5 July 2017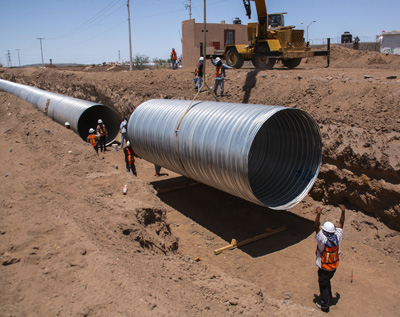 © Tomas Castelazo, www.tomascastelazo.com / Wikimedia Commons /
CC BY-SA 4.0
Regular telescope users may have noticed their daily data releases are coming a little earlier than in the past. Our data handling procedures have been updated to speed things up. Though the LT is designed to all be fully automated, to date we have deliberately inserted one manual break-point in the data flow such that after all the data are pipeline processed they are not released to you until one of us has had a look through all the night's data as a quality assurance check. Experience has shown however that for the few occasions when this procedure has identified an instrument failure there are very many cases where we were unnecessarily delaying distribution of time sensitive data. Our new policy therefore is to release all data into the science archive as soon as possible each morning.
All science data are now typically available in both the Recent Data and searchable science archives between 09:30 and 10:30 UTC on the morning after they were observed. You will continue, as now, to get an email as soon as the data are available. Having removed the human interaction from the process, the data releases are now also being made seven days a week.
Those who use RISE at a high frame rate over several hours to generate large data sets may find their data arrive a little later than the estimate above. This is simply limited by the bandwidth from La Palma back to Liverpool. The data will be released as soon as the entire night's observations have been transferred.
We are only here talking about the final science-ready archived data reductions. Quicklook continues to operate as before for those who need real-time, intra-night access to the data as soon as they are observed.
Besides better serving the time domain astrophysics community, there is one very obvious side effect to this change. We in the LT operations team will no longer see every frame taken and there is greater risk of telescope or instrument faults going un-noticed. The LT has a very wide array of in-house developed, automated telemetry processes that continually monitor system performance for us from hydraulic oil temperatures, through on-sky pointing residuals, instrument amplifier read noise and final archive image quality. These autonomous systems are effective at alerting us to many possible error states, but they will not detect everything. We are therefore now becoming much more dependent on you, the telescope users, to help run the observatory efficiently. We encourage all observers to routinely look at their new data and contact us about any problems you see. This is not only about technical faults. We have in the past been able to alert observers to mistakes in their phase 2 configurations that were revealed by poor data quality. Now the responsibility for ensuring that the data match expectations rests more heavily on all observers for their own data. We are always happy to advise on how best to exploit the telescope facilities if you get in touch to discuss your science objectives.
Liverpool Telescope group begins collaboration with National Astronomical Research Institute of Thailand
24 May 2017
Earlier this month, a deputation of Liverpool Telescope (LT) staff visited the National Astromical Research Institute of Thailand (NARIT) in the city of Chiang Mai. The purpose of the visit was to begin a programme of collaborative software development, funded by STFC through the Newton Fund. The purpose of the Newton Fund is to use science and innovation partnerships to promote economic development and social welfare in partner countries.
The collaborative programme between the LT and NARIT is based around two projects: the development of a new, modern data archiving framework and a new telescope control system. At the end of the three-year programme, these products will replace the existing systems on LT and NARIT facilities, and will also be a component in the new software which will be required for the Large Robotic Telescope (Liverpool Telescope 2).
Photography as art in LJMU online feature
26 April 2017
Robert Smith's "Iridis" image of the Cat's Eye Nebula (featured in full here) has inspired an article on the Liverpool John Moores University (LJMU) main website about the more general concept of science as art, and art as science.
The image won the Robotic Scope Special Prize at the Insight Astronomy Photographer of the Year 2016. It was taken with the Liverpool Telescope's SPRAT spectrograph in slitless mode, so the light from the nebula was split into its constituent colours without first passing through a slit. As the nebula shines only in discrete colours, just a few individual images of the nebula can be seen, instead of a continuous spread from blue through to red.
Smith says: "We often hear about the idea of representing scientific data in an appealing way as an expression of art, but why not look at it the other way around; 'art as science'? Astrophotography is not just a matter of making science look pretty, it shows us that beauty actually is science. The winners of this competition were obviously selected because they were beautiful, striking or interesting, but each and every one is also an expression of astrophysical processes and could be the basis of a science seminar in their own right. It is physics that creates that beauty. Looking at the swirling gas in a nebula or the aurorae, you are literally seeing maths and physics."
Links:
SPRAT pipeline upgrade
11 April 2017

All instruments on the Liverpool Telescope (LT) have automated data "pipelines" that process the raw data from the telescope into a finished form, i.e. science-ready data products, for the user to download the next working day. Not long ago the LT's SPectrograph for the Rapid Acquisition of Transients (SPRAT) got a major upgrade to its level 2 pipeline.
All data pass through a "Level 1" (L1) pipeline that removes low-level instrumental signatures such as bias, dark and flat-field effects. The SPRAT "Level 2" (L2) pipeline carried on from there to perform source extraction, sky subtraction and wavelength calibration, outputting 1D and 2D spectra as part of the process. All data products from the Level 2 SPRAT pipeline are stored as extra extensions in the SPRAT FITS files.
The upgrade to the L2 pipeline is that it now also performs flux calibration, stored as an extra FITS extension. This is a basic calibration that uses a template instrument response file, and generates its absolute calibration from the acquisition image. The precision is fine for the transient classification work that SPRAT is used for, and so will be very useful for the users performing that type of science.
Full details of the new SPRAT L2 pipeline can be found on the SPRAT webpage.
Liverpool Telescope at the forefront of the search for other Earths
22 February 2017
Liverpool Telescope helps to track down seven new planets
The Liverpool Telescope has helped to find seven Earth-sized worlds.
The discovery of a system of seven Earth-sized planets just 40 light-years away was made possible by a team of astronomers from across the world.
The research, published in Nature this week, was led by the STAR Institute at the University of Liège, and used the orbiting NASA Spitzer Space Telescope in addition to ground-based facilities including the Liverpool Telescope (LT), owned and operated by Liverpool John Moores University's Astrophysics Research Institute (ARI).
The LT helped to detect the planets as they passed in front of their parent star, the ultracool dwarf star known as TRAPPIST-1. At least three of the planets could harbour oceans of water on their surfaces, increasing the possibility that the star system may play host to life. This system has both the largest number of Earth-sized planets yet found, making it a key object for future study.
Dr Chris Copperwheat, a co-author on the paper, and a member of the ARI, commented on the role of the LT:
"LJMU is at the forefront of the search for other-Earths and the search for other life in the Universe. The Astrophysics Research Institute was delighted to be part of this ground-breaking research using the Liverpool Telescope. The discovery of multiple rocky planets with surface temperatures which allow for liquid water make this amazing system an exciting future target in the search for life."
"As a robotic telescope and the largest in the world, the Liverpool Telescope is very sensitive to the small, less than 1 per cent dips in brightness through which the planets are discovered. It's all automated, it's flexible and fast, and so is ideal for this sort of time critical work. Supporting the orbiting NASA Spitzer Space Telescope observing schedule, often at very short notice, is a simple task for astronomers who can use our telescope from anywhere in the world."
The ARI is currently in the process of designing the New Robotic Telescope, a facility which will take the Liverpool Telescope's crown as the world's largest robotic telescope dedicated to science, and which will be a powerful tool in the search for other Earths, liquid water and life over the coming decades.
The Liverpool Telescope in action. Note: these are general observations taken by the LT and not footage of the research announced in this release. Credits: ©2016 Daniel López / IAC.
The Liverpool Telescope is one of the largest and most advanced fully robotic telescopes in the world, especially dedicated to the study of variable and transient astronomical phenomena. The timelapse video above shows this giant robot observing the universe at the Instituto de Astrofísica de Canarias (IAC) Roque de los Muchachos Observatory on the summit of La Palma (Canary Islands, Spain), one of the best places on Earth for astronomical observations.
The Liverpool Telescope is mainly used for professional astronomical research, although part of its observational time is devoted to educational projects. In Spain, these are run by the Educational Project with Robotic Telescopes (PETeR) of the IAC, while in the UK, they're run by the National Schools' Observatory (NSO) at LJMU. The timelapse above is a production of the IAC Communication and Scientific Culture Unit and Daniel López (www.elcielodecanarias.com), with the collaboration of the LJMU Astrophysics Research Institute.
This article was adapted from the LJMU press release.
LT tracks rare microlensed quasar
18 October 2016
In a paper entitled "Gravitational lens system SDSS J1339+1310: microlensing factory and time delay" currently in preprint at arXiv , authors Luis Julian Goicoechea Santamaria and Vyacheslav Shalyapin reveal how the Liverpool Telescope (LT) has been used to characterise a gravitational lens created by a foreground galaxy in direct line with a much more distant quasar.
Light from quasar is bent by intervening galaxy's gravity, causing double image (A & B) at Earth. Quasar image inset is real LT data.
© 2016 LT group.
Light from the quasar that is heading in the general direction of Earth is passing either side of the foreground galaxy, and is being bent by the galaxy's gravity to meet at a focus at the Solar System.
From Earth we therefore see two images of the quasar, but because each light path takes a slightly different route around the galaxy, one longer than the other, the images are out of sync. Therefore any disturbance or variation in brightness from the quasar will be seen first in one image, and then repeated after some delay in the other image.
The LT data has not only revealed the time delay between both images, and also that the lensing galaxy is causing microlensing with its constituent stars along the light paths from the quasar.
Since 2005, the Gravitational LENses and DArk MAtter (GLENDAMA) team has been conducting optical monitoring of about 10 gravitationally lensed quasars with the LT. For each target, the main goals are to measure time delays between the multiple quasar images, as well as analyse the intrinsic variability of the lensed source and the possible flux variations caused by microlenses (stars) in the lensing galaxy.
After an 8-year monitoring campaign of the double quasar SDSS J1339+1310 in SDSS-R band, the LT light curves of its two images, A and B, are characterised by typical photometric accuracies of 1-2% and an average sampling rate of once every 6 days (excluding gaps).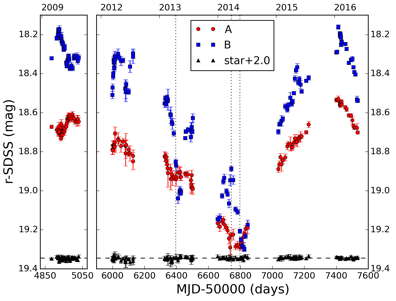 Lightcurve of quasar images A & B from 2009-2016 (dates along top axis).
From paper by Goicoechea and Shalyapin (2016).
These light curves show parallel V-shaped variations, which allowed the GLENDAMA team to determine a time delay of 47 days with 10% precision.
In addition, the accurate follow-up observations of both images reveal the presence of significant microlensing-induced flux variations on different timescales, including rapid microlensing events lasting 50-100 days.
While the strong microlensing activity precludes a more accurate estimation of the delay between A and B, the rapid events are very rare phenomena, and thus unique tools for astrophysical studies.
Optical spectra taken with the Gran Telescopio Canarias (GTC) confirm that the system SDSS J1339+1310 is an unusual "microlensing factory", since appreciable microlensing-induced spectral distortions are also detected.
The paper was accepted in September 2016 for publication in the journal Astronomy & Astrophysics, and is expected to be published soon.