New Robotic Telescope workshop held in Liverpool
25 January 2018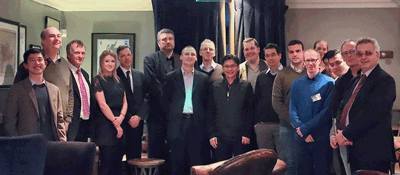 NRT Workshop group photo. Left to right: Marco Lam, Iain Steele, Robin Leatherbarrow, Abigail Lewis, Paulo Lisboa, Ian Baker, Adrian McGrath, Phil James, Suparerk Aukkaravittayapun, Chris Copperwheat, Saran Poshyachinda, Juan Cozar, Christophe Buisset, Helen Jermak, Thirasak Panyaphirawat, Apirat Prasit, Carlos M Gutierrez, Ahmed Al Shamma'a. Credit: Marco Lam.
On 18-19 January 2018 the Astrophysics Research Institute hosted LJMU's partners and prospective partners in the 4.0m New Robotic Telescope (NRT) project for a two-day workshop in Liverpool.
LJMU staff were joined by representatives from the Instituto de Astrofísica de Canarias, the National Astronomical Research Institute of Thailand, and by videolink the National Astronomical Observatory of China.
On the first day, following a tour of the Astrophysics Research Institute, the focus was on the new science the telescope will enable, with a series of presentations covering all of the major topics within the NRT science case. This was followed by a workshop dinner. As well as the delegates, the dinner was attended by Prof. Ahmed Al-Shamma'a, the Dean of the Faculty of Engineering and Technology; and Prof. Robin Leatherbarrow, the Pro Vice-Chancellor for Research.
On day two, the focus was on the new technologies needed to build the telescope. Each group presented an overview of their technical capabilities, and then a lively debate was held over the various parameters of the NRT design. The meeting concluded with a round table discussion on the building and formalising of the funding consortium. This was an extremely fruitful exercise, being the first time the partners and current prospective partners have come together to discuss a way forward for the project, rather than meeting individually.
With the Lead Engineer and Project Manager for the NRT joining the LT group, and further project office recruitments underway in both Liverpool and Spain, this is an exciting time for us all as we move closer towards realising the goal of building the world's largest robotic telescope!