LT featured on BBC TV
1100 GMT 11 March 2010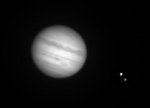 RATCam image of Jupiter as shown on Blue Peter. © 2009 LT Group.
Click for bigger (7KB).
The LT was featured in an article on the BBC's prime-time children's TV show "Blue Peter", screened on 3rd March 2010. In it the presenters were aided by Andy Newsam of the National Schools' Observatory to book observations on the LT to observe the major planets Mars, Jupiter, Uranus and Neptune. This was after two previous attempts to observe the planets were unsuccessful due to the cloudy UK weather. It was also emphasised that because of its robotic nature, the LT would perform the observations on its own while the observers grabbed a night's sleep. The next morning they found all four planets had been successfully observed, which resolved the story.
Pictured at right is the Jupiter image featured on the show, with the Jovian moons Io (upper, brighter) and Callisto (lower) contrast-enhanced to make them more apparent.
Note: this episode of Blue Peter is available to watch online (by UK viewers only) on the BBC iPlayer website until 11:24 GMT Sunday 14th March 2010.