Walk around the LT site
25 Mar 2021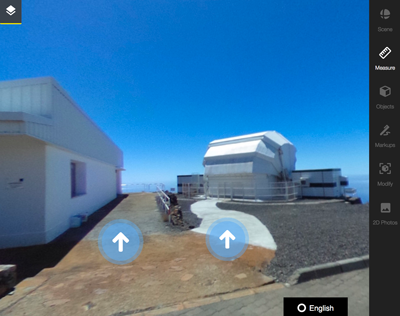 A scene from the site tour, featuring navigation icons, the site annexe/workshop on the left, and the telescope enclosure on the right. Click the image to go to the Site Tour page.
A virtual tour of the Liverpool Telescope site in La Palma is on this website at the Site Tour page. You can walk around the site, even into the telescope enclosure itself, and switch between day and night views.
Liverpool John Moores University's Press Office approached the LT group with a 360° camera and the suggestion we could borrow it to promote the telescope in any way we liked. We decided to use the camera to make a "Google Streetview" style tour around the site.
The images were made with a RICOH Theta S camera during a site maintenance trip in July 2019. They were processed into a tour using the Holobuilder interface (an adapted version of which also hosts the tour) and released on the website in October 2020. It's planned to integrate this tour into Google Streetview in the future.