Severe weather halts observing, mountaintop evacuated
1135 UT 14 Feb 2005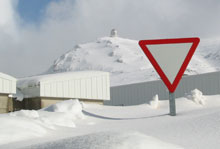 Why you haven't had any data for a while (© Juan Carlos Perez Arencibia)
The LT has been unable to observe since January 26th due to blizzards on site, and observing conditions continue to be out of limits for the eighteenth day running. All astronomers except the MAGIC team at the Roque de Los Muchachos observatory were evacuated yesterday via the road to Garafia.
Contact with the LT was lost on Friday 11th. We are suspicious that power has also been lost but without anyone able to get up to site at the moment we can't confirm this.
Latest news as of last night was that snowploughs and diggers should start clearing the road from Garafia and from the Residencia up to the observatories this morning. Preliminary estimates say it will take about five days to clear the roads properly, assuming of course the weather stays clear.